5/16 Covid-19 Update: "Before the irrevocable choices"
I was on a work call this week where we were talking through scenarios for when we might come back to the office, and someone just casually dropped "End of 2021" (at the earliest) up on a slide. Intellectually I knew this was probably the reality - people who work at large organizations/companies and are able to do their work at home have no reason to go into crowded office buildings until there's a vaccine. The foundation will technically open before then, but it's not going to be a very appetizing place to be with mandatory face masks, social distancing, OSHA protocols, and most people opting to continue to work at home for a variety of reasons. But as continues to be the case with covid, there's a big difference between understanding something intellectually, and accepting it emotionally. 
I think every day it sinks in more and more for me that this isn't a "blip"... it's not something we briefly endure and then return from. There's no going back from this. We're all going to be changed in all sorts of different ways that we have no way of even attempting to predict right now. Our lives perhaps were headed one way, and now they're headed somewhere else, and whatever that "pre covid" life was is over now. Relationships and jobs and life choices that were going to turn out one way four months ago are now on a different path. Cheryl Strayed talks about the "ghost ships that didn't carry us." Who we would have met, and experiences we would have had, and things we would have learned if we had made different decisions.
"I'll never know and neither will you of the life you don't choose. We'll only know that whatever that sister life was, it was important and beautiful and not ours. It was the ghost ship that didn't carry us. There's nothing to do but salute it from the shore."
Like most things that feel unfair and hard to accept, this pandemic feels like something that happened to us, not something we chose (though you could argue that it's the cataclysmic result of a lot of individual choices, about who we voted for, and what we chose to prioritize, and what we chose to ignore, over generations). But as the head of our pneumonia team keeps saying, we're the people who just happen to be alive for the first modern global pandemic, and \we're going to be living through it for the foreseeable future.
I read something last night that asked why we haven't had a moment of collective grief and mourning in the U.S., despite the staggering number of people who have died from coronavirus. I was a freshman in college when 9/11 happened, and the entire university came together that afternoon for mass out on South Quad. Maybe it's just because we can't gather in big groups. Or because there's no end in sight for this tragedy, so how do you grieve something that's still unfolding? Or maybe it's like the frog who gets dropped in the pot of boiling water and immediately jumps out, but slowly boils to death when you put him in water that's room temperature and just gradually turn up the heat?
I remember reading this profile of Roger Winter, a George W Bush appointee who was trying to negotiate a peace deal in Darfur, back when I was working on the LRA. He frequently told his staff that they needed to remember that people die "one at a time," not in thousands or million, and that to forget that meant you were allowing yourself to become numb. 
I don't really think it matters if we come out of this having lost (or gained) twenty pounds, or learned a new language, or perfected the art of sourdough. But I think it does matter that we come out of this with an idea of how we want to make all the lives that were lost, all the lives that could have been saved if we'd been better prepared, count for something. 
___
If You Read Two Things:
An incredibly helpful explanation from Prof. Erin Bromage, a comparative immunologist and professor of biology (specializing in immunology) at the University of Massachusetts Dartmouth, that makes the science of how covid is spread understandable and actionable. It breaks down where people are actually getting sick (at home vs. in public vs. outside) how much virus is released by "normal" activities (breathing vs. coughing vs. speaking, etc) and where the most likely personal dangers will be as we reopen. 
'Social Shaming' Will Not Save Us --  In a functional country, the federal government would be assuring people that all they've given up has been necessary and not in vain. In this one, it's every state — and, in some cases, every person — for themselves. As Andy Slavitt, a senior health care official in the Obama administration, tweeted earlier this week, the Trump administration has essentially decided, "It's a long and difficult road and after we climbed halfway we decided it was too hard and decided to roll back down the Hill"...  Donald Trump has polarized the response to the coronavirus so that compliance with public health directives is coded as progressive, and defiance is conservative. But people on the left used to know that when it comes to public health, shaming is generally an ineffective strategy. "Shaming people is, I think, like 'Just Say No to Drugs,'" Gregg Gonsalves, an epidemiologist at the Yale School of Public Health, told me. "It doesn't deal with people's psychology, with people's economic circumstances, their own fears and anxieties, and so it just seems wrong to me." ... Given that the coronavirus is likely going to be with us for months or years, we're going to need to find harm reduction models of socializing to make life bearable. Many people I know have teamed up with other families to share some of the child care burdens and give their kids playmates, but they don't talk about it lest they seem to be engaging in, or encouraging, irresponsible behavior. They might be slightly increasing their risk, but they're also increasing the amount of time they can live this way without cracking,. It's natural that people are struggling with formulating, enforcing and abiding by new social norms. There are villains here, but they're not the ones desperate to escape this awful new half-life we're all living. They're the ones whose job it was to chart a way out, and just gave up.
Recommended reading: 
Things that made me feel better/less alone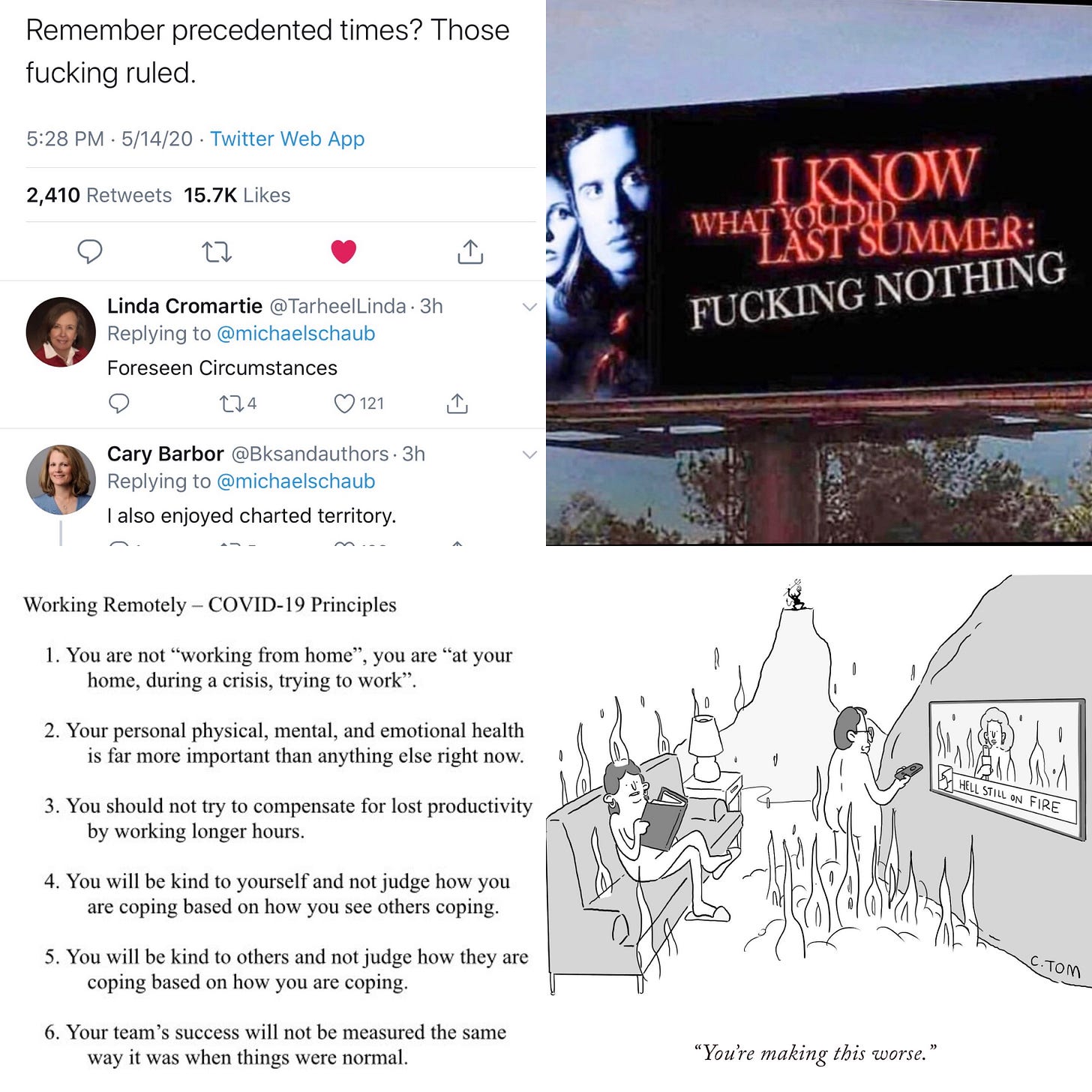 Covid-19 Poem of the Day
The Blue House
It is night with glaring sunshine. I stand in the woods and look towards my house with its misty blue walls. As though I were recently dead and saw the house from a new angle.
It has stood for more than eighty summers. Its timber has been impregnated, four times with joy and three times with sorrow. When someone who has lived in the house dies it is repainted. The dead person paints it himself, without a brush, from the inside.
On the other side is open terrain. Formerly a garden, now wilderness. A still surf of weed, pagodas of weed, an unfurling body of text, Upanishades of weed, a Viking fleet of weed, dragon heads, lances, an empire of weed.
Above the overgrown garden flutters the shadow of a boomerang, thrown again and again. It is related to someone who lived in the house long before my time. Almost a child. An impulse issues from him, a thought, a thought of will: "create. . .draw. .." In order to escape his destiny in time.
The house resembles a child's drawing. A deputizing childishness which grew forth because someone prematurely renounced the charge of being a child. Open the doors, enter! Inside unrest dwells in the ceiling and peace in the walls. Above the bed there hangs an amateur painting representing a ship with seventeen sails, rough sea and a wind which the gilded frame cannot subdue.
It is always so early in here, it is before the crossroads, before the irrevocable choices. I am grateful for this life! And yet I miss the alternatives. All sketches wish to be real.
A motor far out on the water extends the horizon of the summer night. Both joy and sorrow swell in the magnifying glass of the dew. We do not actually know it, but we sense it: our life has a sister vessel which plies an entirely different route. While the sun burns behind the islands.
~Tomas Transtromer
__
Sending love from a very rainy Capitol Hill. xoxo.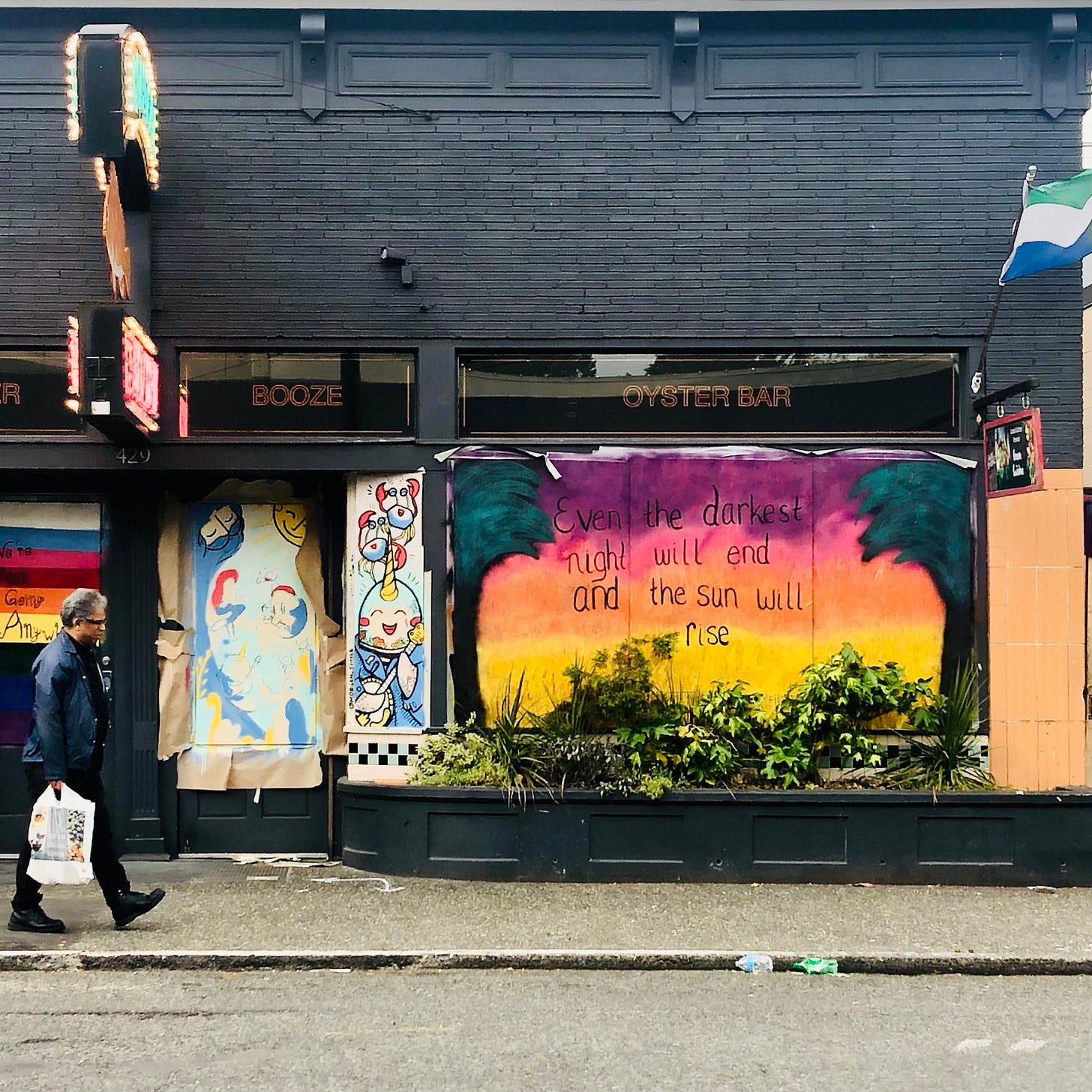 --
If you know someone interested in receiving this newsletter, forward it their way. You can subscribe (and link to it) here: http://coronavirus19.substack.com/