5/23 Covid-19 Update: "Let America be America again— The land that never has been yet"
This was my moody teenager week of quarantine... complaining to myself about being bored, but rolling my eyes at any suggestion I came up with to alleviate boredom. I'd rather just sit in my room and listen to Fiona Apple and swim in the stir-crazy angst.
I'm tired of the emotional roller coaster of quarantine. A good day, followed by a bad day, followed by a good day, with absolutely no discernible difference to the content of those days. What's the difference between a good day and a bad day when they're all just pretty much the same endless Microsoft Teams meeting? And then I start to get mad at myself... why can't I sustain the good days? Clearly I'm capable of them, so it must be some sort of moral failing on my part that I can't keep them going. Up and down, round and round.
But every so often, I'm able to get off the ride and see it for what it is. I'm working on a pandemic in the midst of a pandemic. Every single choice feels saturated in moral ambiguity. The freedom, and travel, and diversity of experience in my life that I cherished and relied on aren't available to me right now. And maybe it's just peak privileged White Whine to feel sad that I don't know when I'm getting on an airplane again. But I do. I was talking to my friends in California the other night and they mentioned how most days end with them feeling exhausted but like they also should have done more. That seems to ring true of the experience of so many people I know. Quarantine burnout is real.
And at the same time, there's something about this new, strange pace to life that I'm enjoying. I gave up airplanes for Lent this year for a reason... I wanted to know what it would feel like to slow down. And there have been real moments of unexpected joy and comfort for me in this season; things I hope to carry forward as we make our way out of this. Feeling connected to my neighbors. More consistently checking in with my friends and creating scheduled space to have real conversations with them about what's happening in our lives. Being more intentional about how I start and end my days. Not having to devote mental energy to choices that don't really matter (ie: what to wear to work. Turns out Pres. Obama/Jim Harbaugh knew what they were doing with their same suits/khaki pants... decision fatigue is real).
Whenever I talk to my friends about our quarantine experiences, we all seem to have found at least one thing that has pleasantly surprised us. We feel the need to put all the expected asterisks on it... that we know we're so lucky, and that it feels uncomfortable to find silver linings in the midst of so much suffering, and that this is still really hard. But I love hearing about the unexpectedly happy things. They help me believe that maybe a better world might exist on the other side of this. Absolutely nothing can "make up" for what's been lost - the death and economic destruction and pain are unforgivable. But I read something the other night about different theories about big long-term changes that were at least partially caused by the 1918 flu pandemic and it made me feel hopeful... women's suffrage, labor and zoning laws, a flu vaccine. Do those things "make up" for 50 million deaths? I'm not sure that question is helpful, and I don't know how to answer it.
For those in the US, I hope you're able to take advantage of the long weekend, and that there are things in the next few days that feel both comforting and familiar, but also maybe new and surprising. Sending love.
-Alison
__
By the Numbers:
Nearly half of Twitter accounts pushing to reopen America may be bots according to a cybersecurity team at Carnegie Mellon. Many of those accounts were created in February and have since been spreading and amplifying misinformation, including false medical advice, conspiracy theories about the origin of the virus, and pushes to end stay-at-home orders and reopen America. They follow the playbooks of Russia and China.

Lockdown Delays Cost at Least 36,000 Lives, Data Show: If the United States had begun imposing social distancing measures one week earlier than it did in March, about 36,000 fewer people would have died in the coronavirus outbreak, according to new estimates from Columbia University disease modelers. And if the country had begun locking down cities and limiting social contact on March 1, two weeks earlier than most people started staying home, the vast majority of the nation's deaths — about 83 percent — would have been avoided, the researchers estimated. Under that scenario, about 54,000 fewer people would have died by early May.

Half of Fox News Viewers Believe Conspiracy Theory That Bill Gates Wants to Use Virus Vaccines to Track You, New Poll Says: Misinformation is taking a dangerous hold on Fox News viewers. According to a new poll, half of all Americans who name Fox News as their primary news source believe the debunked conspiracy theory claiming Bill Gates is looking to use a coronavirus vaccine to inject a microchip into people and track the world's population.
Recommended Reading:
Things that made me feel better/less alone: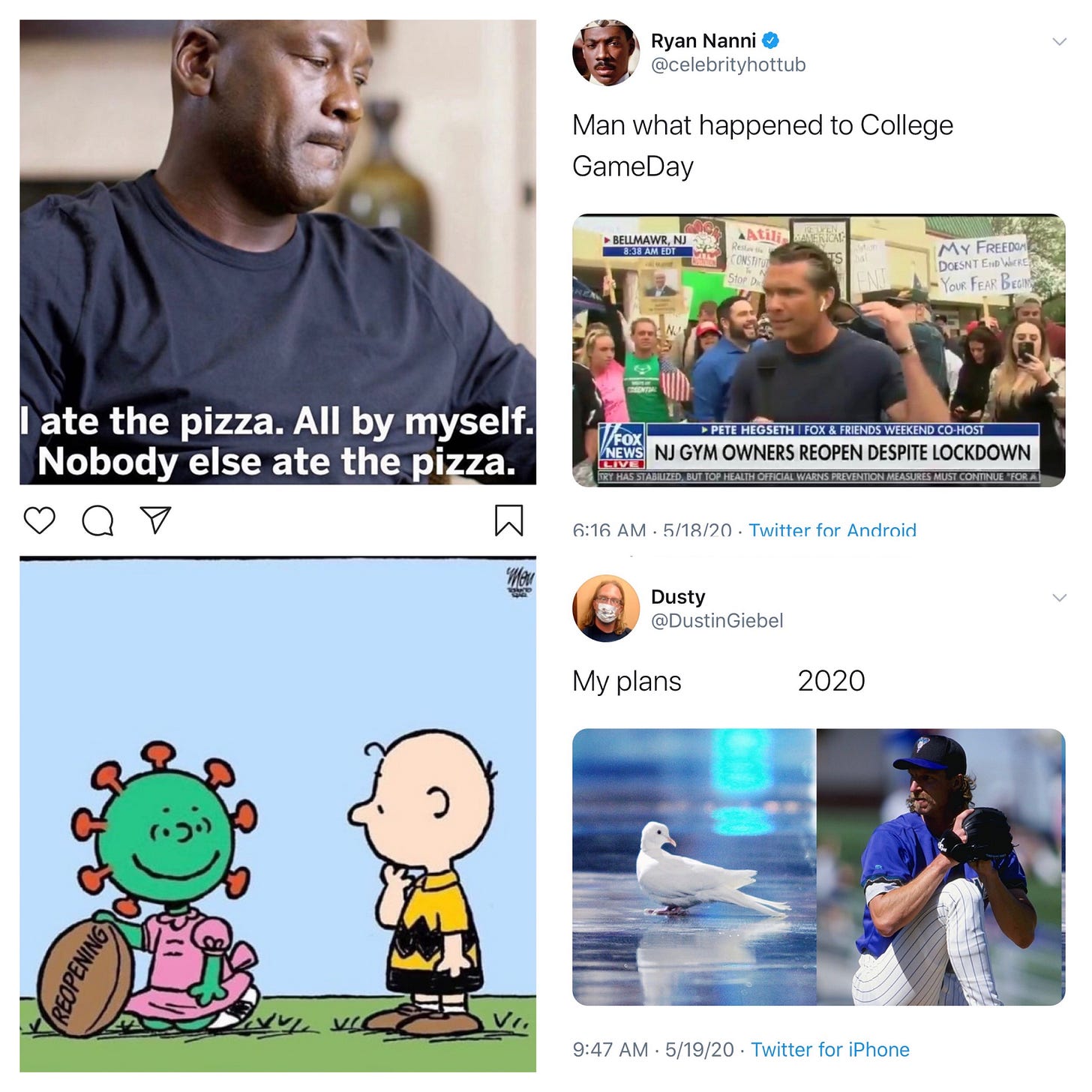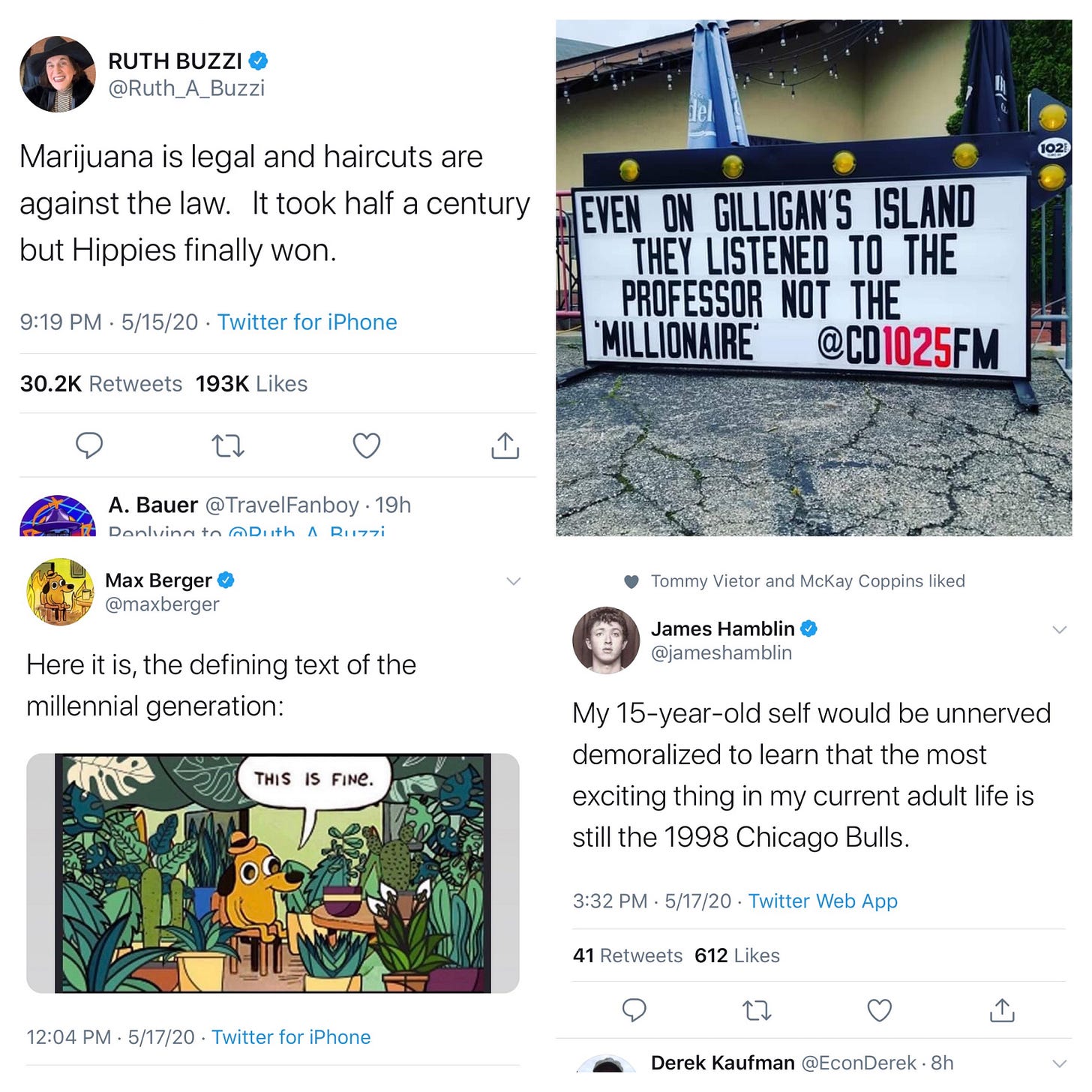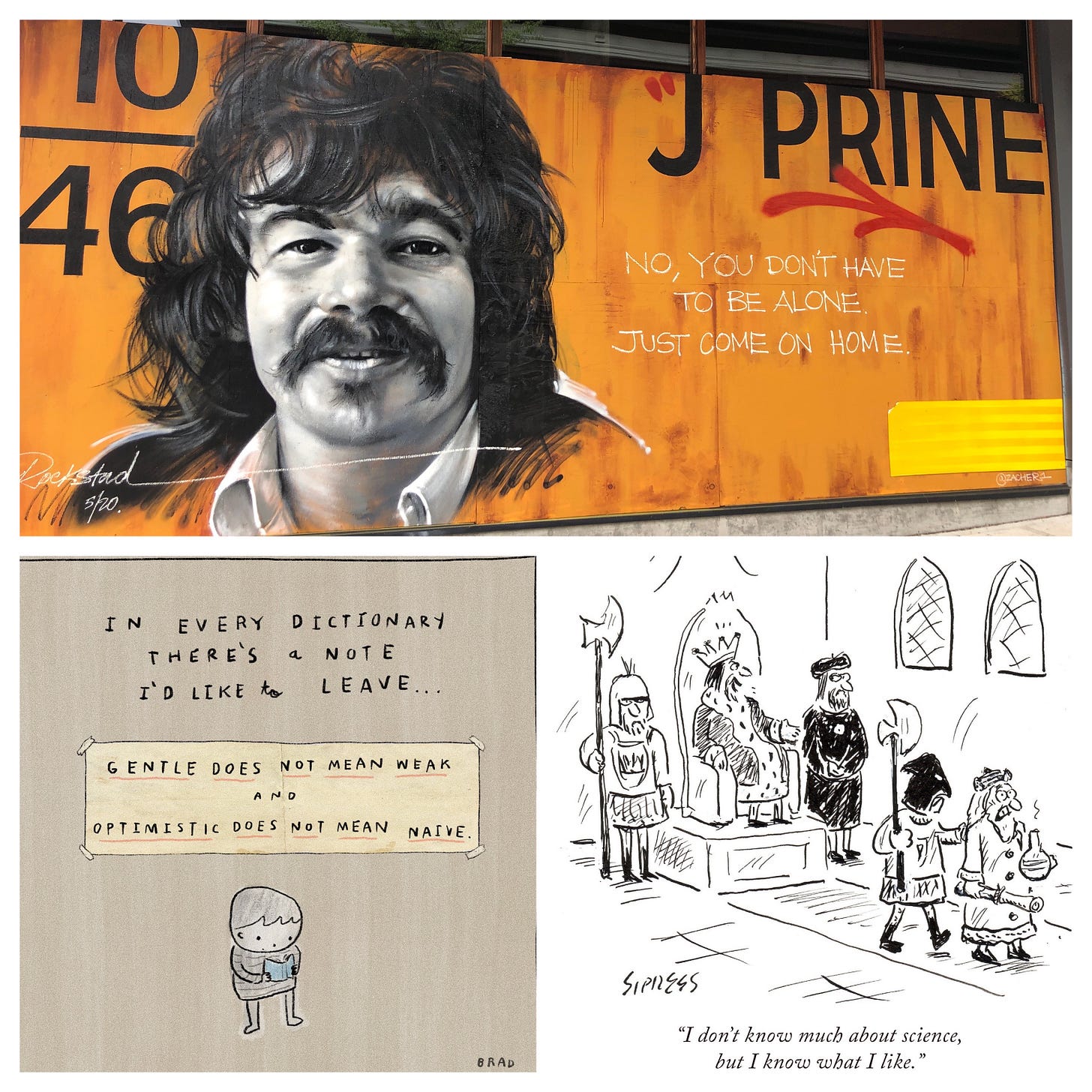 Covid-19 Poem of the Day:
Let America Be America Again
O, let America be America again—
The land that never has been yet—
And yet must be—the land where every man is free.
The land that's mine—the poor man's, Indian's, Negro's, ME—
Who made America,
Whose sweat and blood, whose faith and pain,
Whose hand at the foundry, whose plow in the rain,
Must bring back our mighty dream again.

Sure, call me any ugly name you choose—
The steel of freedom does not stain.
From those who live like leeches on the people's lives,
We must take back our land again,
America!

O, yes,
I say it plain,
America never was America to me,
And yet I swear this oath—
America will be!

Out of the rack and ruin of our gangster death,
The rape and rot of graft, and stealth, and lies,
We, the people, must redeem
The land, the mines, the plants, the rivers.
The mountains and the endless plain—
All, all the stretch of these great green states—
And make America again!
--
If you know someone interested in receiving this newsletter, forward it their way. You can subscribe (and link to it) here: http://coronavirus19.substack.com/