5/8 Covid-19 Update: "And nobody, of course, is kind, or mean, for a simple reason"
Hi friends,
The covid newsletter almost did an Irish goodbye this week. When I started writing this, it was because I wanted to make use of the wealth of covid-related knowledge and expertise I was exposed to because of my job, and to try to get credible information about the virus to the people I love. And selfishly, I just needed to find an outlet for the covid chaos swirling in my brain. The covid chaos is definitely still there, but I'm less convinced of the utility of the information. I think we've passed the point of questions about social distancing guidance and who is at risk. It no longer feels like I have access to "special" information that might keep you any safer than you would otherwise be. 
There's still so much that we don't know about covid: Whether it's seasonal, which organ systems are actually affected by the virus and why, how long antibodies will provide immunity, do virus mutations make it more or less harmful?
But generally what we knew two months ago has held true: It's more likely to kill men, older people, and people who have compromised immune systems. It's much deadlier than the normal flu. Until there's a treatment or vaccine, social distancing is our best tool for fighting it. It's going to disproportionately kill the poor, both in the US and around the world because of structural racism and oppression. The secondary effects (excess mortality, economic depression, massive strain on both social safety nets and human communities) are going to be severe. And our quickest way out of the economically and socially painful shutdown is with widespread testing, and isolation and quarantine of those who are sick.
Two months ago, South Korea and the US had access to the same information about coronavirus and the same number of deaths from it (less than 100). Now, South Korea has 256 total deaths, and the US is at 76,101 and counting. South Korea, a country of 50 million+ people, is reporting no new domestic cases in the last week, and the US is averaging between 20,000 and 30,000 new cases per day, with those numbers only likely to get worse as states reopen prematurely.  While I am amazed on a daily basis at the unprecedented scientific breakthroughs occurring - thanks to the tireless work of incredibly smart and good people all around the world- it's very unlikely that there's going to a short-term miracle that saves us from this. And while we learn more about the virus every day, it's unlikely that the basic assumptions above are going to change too much. 
The story of coronavirus is no longer how do we stop it, but why didn't we, and why aren't we now. And the answers to those questions are both inherently political and moral. Which lives do we value? How much are we willing to sacrifice for other people? How did we let ourselves get here? How much do we believe in unbridled capitalism? What do we do with our anger and grief? 
And I'm not particularly interested in writing a political newsletter on the moral implications of coronavirus. Which isn't to say I won't keep doing this... who knows. I don't want to do the thing where people make grand proclamations about how they're "taking a break from facebook" and then come slithering back 2 days later. We're all going to have to keep wrestling with these questions and testing out answers that feel right to us. 
For me, that means spending some time away from my laptop/work this weekend reading a book I got on the "death of expertise." I'm interested in the theories about why ignorance has become an American virtue, why people are so quick to accept the advice of their friends on social media over the wisdom of specialists who have multiple PhDs on a subject, and why we're willing to concede the point that "facts" no longer exist when they most definitely do. I'll report back if I find out anything interesting, or I might just slink off into the Irish sunset and drink away my sorrows.
Either way, I continue to hope for all of us that we find ways to make the best of this, whatever "this" is.
Sending love,
Alison
Recommended reading:
Leaders Are Crying on the Job. Maybe That's a Good Thing. For those interested, this was the article I mentioned last week about the gender dynamics of crying at work, and the pandemic overall (thanks to everyone who responded). I thought these parts were particularly interesting:

Crying in public was once seen as a strength. According to Tom Lutz, the author of "Crying: The Natural and Cultural History of Tears," it was common in the 18th century for upper-class men to cry — in fact, "they were viewed as brutes if they didn't," he said. It was only in the 19th century that the idea of male stoicism emerged, and it was not until the mid-20th century that tears were used to suggest that "candidates for public office were not manly or stable enough" to be there.

"The days when a politician cried and it was over for them — that's over," she said. "Things like empathy, vulnerability, emotional connectedness — these are the things that define today's leaders." In other words: the leadership traits that, traditionally, have been associated with women.

Recommended viewing:
Becoming: I watched the new Netflix documentary about Michelle Obama last night and loved it. I was worried it was just going to make me sad, but it turned out to be the best possible form of escapism, and also made me feel more hopeful than I have in awhile. 

Parks and Recreation coronavirus special: The cast of Parks and Rec did a special episode about how Leslie Knope et al are coping with the pandemic and raised $2.8M for Feeding America's Covid-19 Response Fund. It ended with a new version of 5,000 Candles in the Wind for Lil Sebastian and I dare you not to cry. 
Things that made me feel better/less alone:
(I still have never seen Star Wars, but Yoda gets me every time):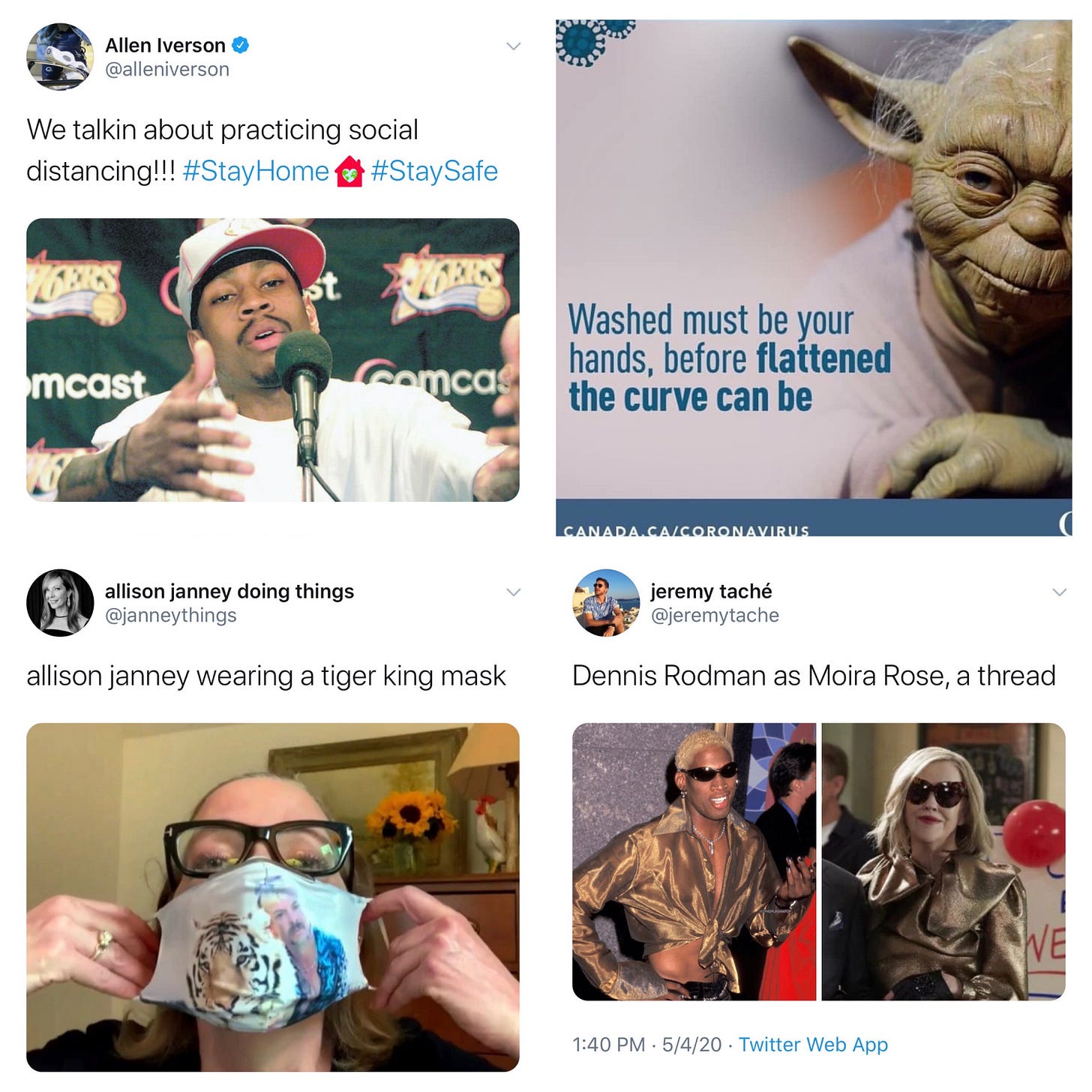 Covid-19 Poem of the Day:
Dogfish
You don't want to hear the story
of my life, and anyway
I don't want to tell it, I want to listen

to the enormous waterfalls of the sun.

And anyway it's the same old story – – –
a few people just trying,
one way or another,
to survive.

Mostly, I want to be kind.
And nobody, of course, is kind,
or mean,
for a simple reason.

And nobody gets out of it, having to
swim through the fires to stay in
this world.

*
And look! look! look! I think those little fish
better wake up and dash themselves away
from the hopeless future that is
bulging toward them.

*
And probably,
if they don't waste time
looking for an easier world,

they can do it.
~Mary Oliver