6/5 Covid-19 Update: "Weeks where decades happen"
"There are decades where nothing happens, and there are weeks where decades happen." - Vladimir Lenin
(A few nights of protest and apparently I consider myself enough of a Bolshevik to casually quote Lenin on a Friday morning. Forgive me.)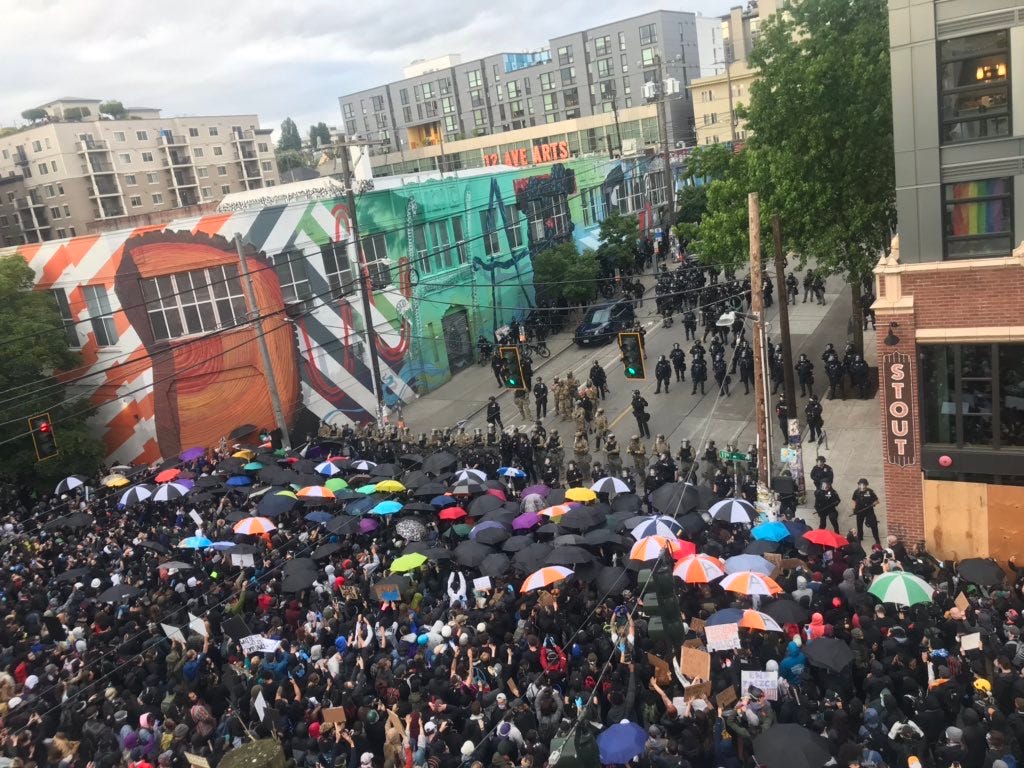 What a year this day has been goes the joke of the Trump era. But honestly... last weekend feels like a lifetime ago. It's strange to have a reference point for this kind of mental whiplash that a few months ago felt like a "once in a lifetime" feeling - the mixture of fear and an inability to focus on anything else and some degree of paralysis and just heightened everything in the early days of the pandemic -- and now it's happening again. It feels like living through something historic. Something that matters. And something that could break a lot of different ways, and you cling to to the hope that it breaks in the direction of progress and justice.
I've gone to the protests on Capitol Hill in Seattle the last few nights and each night has had a distinctly different vibe and feel. As the SPD has started to employ more deescalation tactics and city government has become more responsive to demands, some of the tension has dissipated. Last night had a distinctly Summer of 1967 meets Summer of 1968 flavor, and made me wonder a little if it's what it might have felt like to be in Haight Ashbury or one of the Vietnam protests in DC. Martin Luther King Jr (who I just learned had a 75% disapproval rating in America when he was assassinated in case that tells you how much easier it is to be on the right side of history after the fact), talked a lot about the idea of the beloved community --
"Love is creative and redemptive. Love builds up and unites; hate tears down and destroys. The aftermath of the 'fight with fire' method which you suggest is bitterness and chaos, the aftermath of the love method is reconciliation and creation of the beloved community. Physical force can repress, restrain, coerce, destroy, but it cannot create and organize anything permanent; only love can do that. Yes, love—which means understanding, creative, redemptive goodwill, even for one's enemies—is the solution."

I feel like I'm seeing a glimpse of this community in my neighborhood every night. Doctors and nurses and EMTs are volunteering to staff medical tents. People are bringing water and snacks and sharing with whoever might be thirsty or hungry (shout out to the La Croix station on 11th and Olive). Almost everyone is wearing masks (an article on how to keep risk of transmission lower at outdoor protests and why racism is a public health concern too, here). There are free bike repair stations and hand washing stations and families out walking around and live music on most street corners and art installations and people just genuinely checking on each other and keeping black people and their voices and experiences and leadership at the center of it all. People seem less concerned about saying the wrong thing and more concerned with listening. So many people are out of work, and everyone is starved for human contact (I can't tell you how strange and life-giving and unexpected it feels to be in a crowd of people) and kids are out of school and there's just kind of this sense of where else would any of us be right now? I wish I could put you all in my pocket and bring you here.
It's also really disorienting to come home at night and then see the images and videos of unprovoked police brutality in other cities. It's mind boggling to me what's happening in NYC and LA, even though I know it shouldn't be. I obviously knew there was racism in our police forces, but I genuinely didn't know it was this widespread, which I feel ashamed about. The fact that some of these police officers feel emboldened enough to attack peaceful unarmed protesters knowing there are cameras watching - knowing that the world is watching - is insane to me. How long must they have gotten away with smaller acts of racism and violence to feel this level of impunity now? It just feels abundantly clear to me that we are a country that hasn't dealt with its shame. The racism at the core of our founding has never been exorcised and the pain it inflicts is replicated every day in a million different ways. People like Drew Brees would rather say they've "always been an ally" to the Black Community (which I don't think is realistically true of any white person in America) and alleviate their own guilt than admit that unconscious bias (at best) has poisoned them too.
But I still feel hopeful. I feel hopeful that the young people (am I old enough to say that?) are less interested in our tired culture wars and more interested in policies that actually make sense. I'm hopeful that evangelicals are turning away from Trump's disgusting bible photo op and white supremacy and will be more willing to renounce his complete corruption and defilement of anything resembling faith. I feel hopeful that the idea of "Christian nationalism" and the pursuit of power and material wealth at the expense of piety and other people's lives will get pushed more toward the fringes and eventually dismantled.
I actually, genuinely believe that a better world is possible and that the actions people are taking right now are creating that world in real time.
"To be hopeful in bad times is not just foolishly romantic. It is based on the fact that human history is a history not only of cruelty, but also of compassion, sacrifice, courage, kindness. What we choose to emphasize in this complex history will determine our lives. If we see only the worst, it destroys our capacity to do something. If we remember those times and places—and there are so many—where people have behaved magnificently, this gives us the energy to act, and at least the possibility of sending this spinning top of a world in a different direction. And if we do act, in however small a way, we don't have to wait for some grand utopian future. The future is an infinite succession of presents, and to live now as we think human beings should live, in defiance of all that is bad around us, is itself a marvelous victory." -Howard Zinn
Sending so much love from Seattle.
Alison
--
If You Read Two Things:
James Mattis Denounces President Trump, Describes Him as a Threat to the Constitution- In an extraordinary condemnation, the former defense secretary backs protesters and says the president is trying to turn Americans against one another.
"Instructions given by the military departments to our troops before the Normandy invasion reminded soldiers that "The Nazi slogan for destroying us…was 'Divide and Conquer.' Our American answer is 'In Union there is Strength.'" We must summon that unity to surmount this crisis—confident that we are better than our politics.

Donald Trump is the first president in my lifetime who does not try to unite the American people—does not even pretend to try. Instead he tries to divide us. We are witnessing the consequences of three years of this deliberate effort. We are witnessing the consequences of three years without mature leadership. We can unite without him, drawing on the strengths inherent in our civil society. This will not be easy, as the past few days have shown, but we owe it to our fellow citizens; to past generations that bled to defend our promise; and to our children"

Attention white people: Your #BLM memes are not enough: Mellina White writes for KUOW about white progressives' shallow efforts to grasp the minority experience. "Pause for a moment and listen. Taking "action" is not sharing the same post everyone else in your echo chamber is sharing."
"Over the past few weeks, I have seen countless memes, videos, and posts about race on your social media pages. Instructions on how we should educate ourselves. Endless explanations of white privilege. Book recommendations about race. Criticism of other white people who use phrases you perceive as oppressive. Images that simply say BLACK LIVES MATTER. The list goes on and on. However, I can't help but notice some glaring omissions.

For instance, pictures of you hanging out with your friends of color. You out and about enjoying different cultures in real life. You actually physically connecting with human beings who are different than you regularly in your life. I never see those posts. I know what you're thinking right now. You have black friends! You just don't parade them on your social media posts! And to be fair, I don't know your real life.

But seriously, do you actually have any black friends?

I realized that many white progressives view people like me as marginalized, weak, and in need of protection simply because of my race. Without even knowing me or my life experience how could you ever reach that conclusion? Without actually picking up the phone and having a conversation with me, how could you know what I can handle? I started to wonder how many of these white people dominating online conversations about equity actually had a real-life black friend.

And for the record, if we are going to generalize black people in such a broad sense, I would argue that African-Americans are the most resilient group in America. How could we not be after enduring hundreds of years of oppression? And if you don't believe me, have a conversation with a southern black auntie. She'll set you straight. If you don't know any, I've got a few I'd love to introduce you to. Make a friend."
Things that made me feel better/less alone: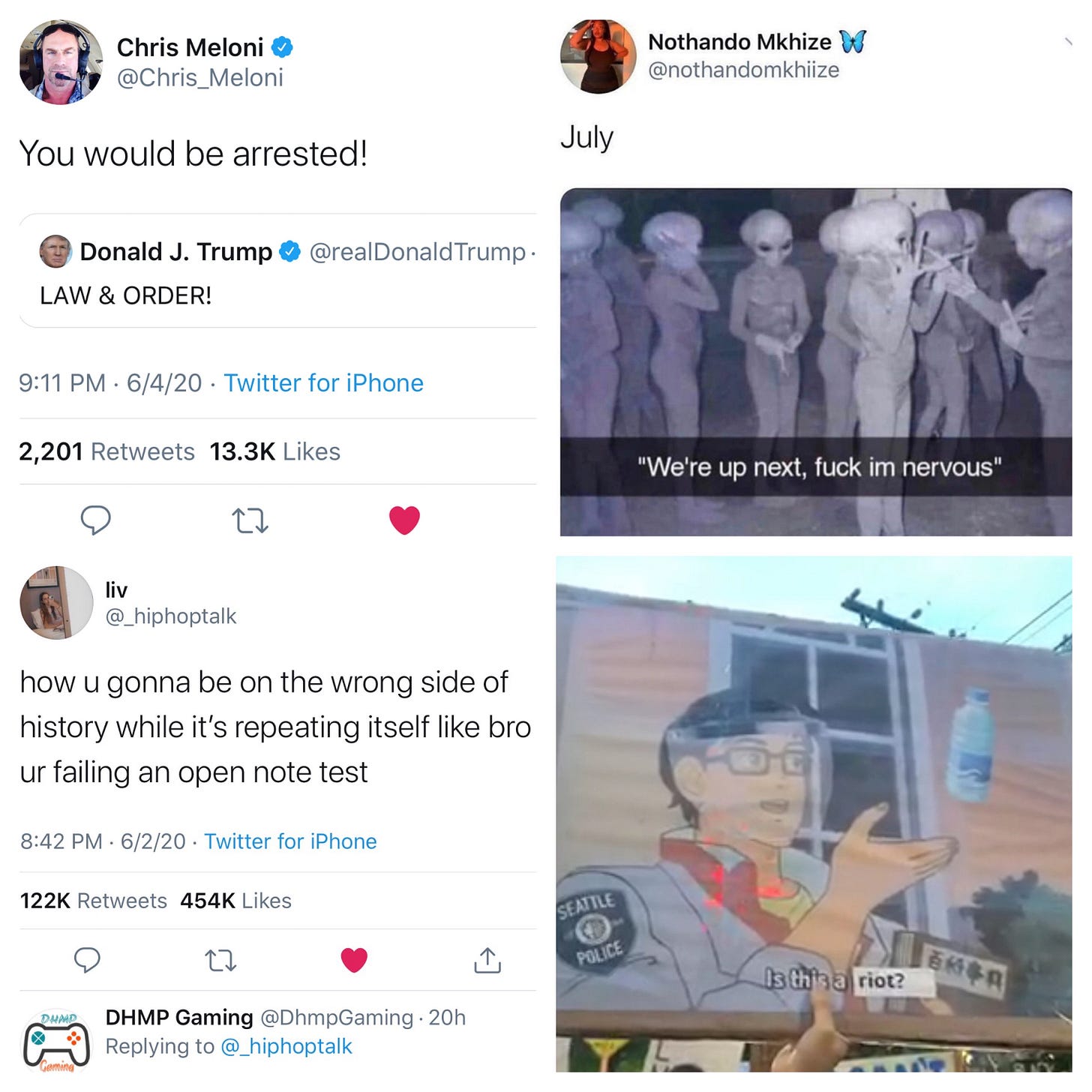 __
Covid-19 Poem of the Day:
Transit
If music be the food of love, play on.

This is the house that music built:
each note a fingertip's purchase,
rung upon rung laddering

across the unspeakable world.
As for those other shrill facades,
rigged-for-a-day porticos

composed to soothe regiments
of eyes, guilt-reddened,
lining the parade route

(horn flash, woodwind wail) . . .
well, let them cheer.
I won't speak judgment on

the black water passing for coffee,
white water for soup.
We supped instead each night

on Chopin—hummed our grief-
soaked lullabies to the rapture
rippling through. Let it be said

while in the midst of horror
we fed on beauty—and that,
my love, is what sustained us.
~Rita Love
--
If you know someone interested in receiving this newsletter, forward it their way. You can subscribe (and link to it) here: http://coronavirus19.substack.com/