8/16 Covid-19 Update: "Joy is not made to be a crumb"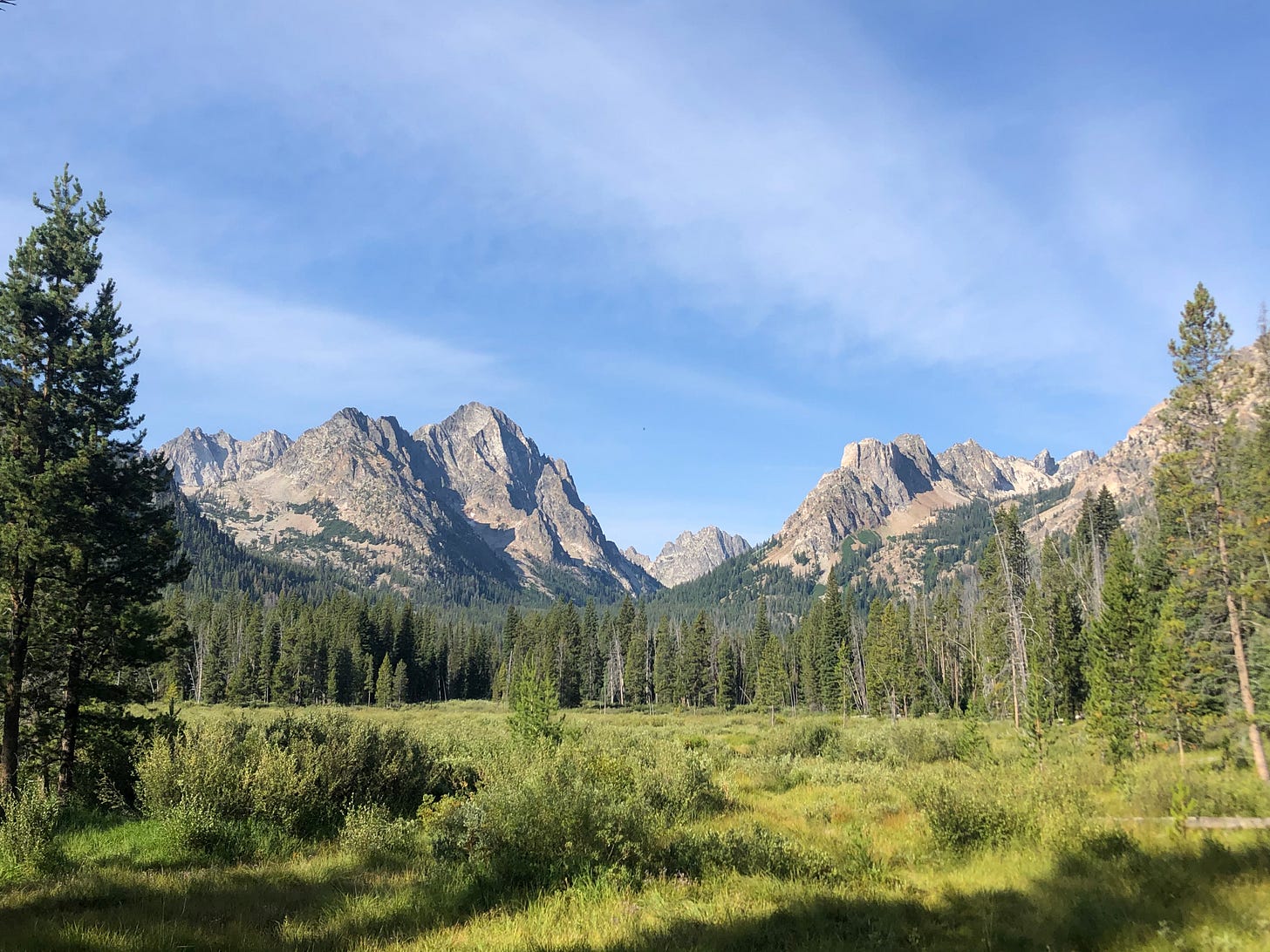 (Note: There are no actual covid updates in this email, so stop reading now if that's what you're here for)
"Whenever I go on a trip, I think about all the homes I've had & I remember how little has changed about what comforts me." - Storypeople

Good morning from my campsite in southern Idaho... I'd be more specific, but the friend who recommended this place to me made me swear not to tell anyone else (though I am very easily bribed should you want more details). I'm halfway through a two week vacation that brought me from Seattle to Oregon and now over here – where it's 5am and 35 degrees outside my tent, conditions I wasn't *exactly* prepared for.
(Yesterday morning it was so cold that I got up and went on a hike, which should give you an indication of how desperate I was. People say that playing golf is a good walk spoiled, but I think it's a better description of hiking, one of my most loathsome activities. Every few years I make myself try again and can now confirm – yep, still hate it).
I had three goals for my time away from work: to remember how to read for pleasure, to stay as fully unplugged/off the grid as possible, and to not make any plans beyond waking up each day and asking myself what sounds good (my poor, tortured Type A soul having to set a goal to not set goals… when people say our brains are broken, I think this is what they mean). So far, I'm two for three (the reading is coming along slowly), and it's all felt very restorative. A hot spring fed clawfoot bathtub in the middle of a wildflower covered mountainside during a meteor shower is actually as dreamy as it sounds.
I haven't questioned my sanity once in the last seven days, which feels like a real win, given that it's been an almost daily occurrence recently. That's partially why I haven't written in so long.
At the end of June, my cousins and I took a camping trip back to a spot in eastern Washington that we halfway stumbled upon last year. I remembered that it didn't have cell service, and I knew that was the only way I was going to get away from work/covid. I think it's fair to say that trip saved me. The incessant, blaring cacophony inside my brain quieted down enough that I could hear myself think again, for the first time in months. I realized that the pace I'd been existing at since February wasn't sustainable, and had taken a toll physically, mentally, and emotionally (which I know is true for everyone right now in every sort of way). I read article after article about burnout in the public health sector, and the impacts of the pandemic on our collective mental health, and how we're all living through trauma that's hard to make sense of. But I kept trying to ignore that I was feeling all of those things personally too. I didn't think I had a right to, I guess?
Who was I to be tired, or anxious, or missing my old life, when there were people who were actually suffering? People who had lost jobs, or family members, or the opportunity to grieve for their loved ones? People living in slums staring down the face of a pandemic without any protection.
But pretending those feelings weren't there didn't make them go away. They just added a layer of guilt onto the preexisting unpleasantness.
So I went camping, and looked at the stars, and read Mary Oliver, and remembered that nobody wins at the pain comparison game. It's cruel, and futile, and it makes us small. Whether or not I "deserved" to feel tired or anxious or burnt out was beside the point. I did feel those things. And if any of you came to me and said you were feeling that way, I wouldn't call you spoiled or weak. So why do I say those things to myself? It's really just another form of ego – the idea that I'm somehow separate and set apart from the collective pain the world is feeling right now. I'm slowly learning that the fastest way through unpleasant feelings isn't to ignore them – it's to acknowledge them and make space for them, and then get back to the work of practicing gratitude. It's hard to feel grateful and sorry for yourself at the same time.
I've spent the last month and a half trying to be more honest about my limits, and trying to reimagine ways to keep doing this work that feel less costly. I'm no stranger to self-care (see # of trips to Bali), but I usually make sure to feel just a little guilty and self-loathing about it too, lest I get too goop-y. I've wondered on this trip if we all roll our eyes a little at the idea of self-care because it's something that women talk about as being important, and our society tends to not take quite as seriously the ideas that come from women (I've listened to a lot of The Chicks and Alanis Morissette on this trip if you can't tell). It sounds silly to say I'm on a self-care journey, but isn't that the exact same thing as saying I'm trying to figure out how to take better care of myself? That doesn't seem so silly.
We have to take care of ourselves.
Whatever that looks like for each of us.
And I know it's very easy for me to say that with my insanely good health insurance and job security and support system. But it doesn't make it less true. Who benefits from denying myself the things that I believe everyone has a right to – mental health services, and paid vacation, and the space to hear myself think?
So for most of the summer, I've been off pretty much all media that wasn't absolutely necessary to do my job (if I've trolled you on Venmo recently, I'm sorry – it's the only form of social media/entertainment I have left… RIP Twitter). The news wasn't going to get any better, and it didn't require my constant attention.
It's pretty clear to me that as long as Trump is in office, the US has no hope of getting the pandemic under control, will continue to fully abdicate its responsibility as a global superpower to help figure out how to make sure that the poorest people are not the last in line for the inevitable vaccine, and insecure men will refuse to wear masks because they have tremendously fragile egos. The richest country on earth will continue to look like an absolute joke, and people will continue to pretend that science isn't real. Bill said in an op-ed recently that our country decided to prioritize reopening bars instead of reopening schools, and we're going to have to live with the shame of that for a very long time.
I strangely miss the first few months of the pandemic now, when there was this clarity of purpose – when we believed that getting evidence-based information out to people as quickly as possible would make a difference. I don't think any of us considered the possibility that we'd still be debating the merits of masks and social distancing and just generally not being a selfish asshole late into August.
It's been demoralizing, and I lost heart. I couldn't pay attention to the idiocy of our country anymore and still have any motivation left to keep working. If it wasn't the top story on the New York Times or ESPN or related to Taylor Swift, I likely don't know about it.
And this last week I went into LeBron playoff dark mode --- without cell service most of the time. Sitting alone reading in a river, it's very easy to forget that covid exists.
I did take a brief pause from my walkabout yesterday to go into town to watch the Blazers game, but only lasted the first half before I felt my brain short-circuiting again – please pray for my reintegration into society). I'm just going to assume the Blazers won? I'm also going to assume that Joe picked Beyonce as his running mate… the longer I stay in the wilderness and away from the news, the longer I can hold onto that dream.
Anyway – thanks for giving me a distraction from the cold. I'm going to go into town later to send this, then head back into my covid-free river to try to store up more of this sunshine for the long months ahead.
I hope that you're all storing up whatever it is that you need too, and that you're taking care of yourselves, however that may look.
Sending so much love from here to wherever you are.
Alison
___
Listen
with the night falling we are saying thank you
we are stopping on the bridges to bow from the railings
we are running out of the glass rooms
with our mouths full of food to look at the sky
and say thank you
we are standing by the water thanking it
standing by the windows looking out
in our directions
back from a series of hospitals back from a mugging
after funerals we are saying thank you
after the news of the dead
whether or not we knew them we are saying thank you
over telephones we are saying thank you
in doorways and in the backs of cars and in elevators
remembering wars and the police at the door
and the beatings on stairs we are saying thank you
in the banks we are saying thank you
in the faces of the officials and the rich
and of all who will never change
we go on saying thank you thank you
with the animals dying around us
taking our feelings we are saying thank you
with the forests falling faster than the minutes
of our lives we are saying thank you
with the words going out like cells of a brain
with the cities growing over us
we are saying thank you faster and faster
with nobody listening we are saying thank you
thank you we are saying and waving
dark though it is
~Thanks, W.S. Merwin