8/24 Covid-19 Update: "Perhaps a huge silence might interrupt this sadness"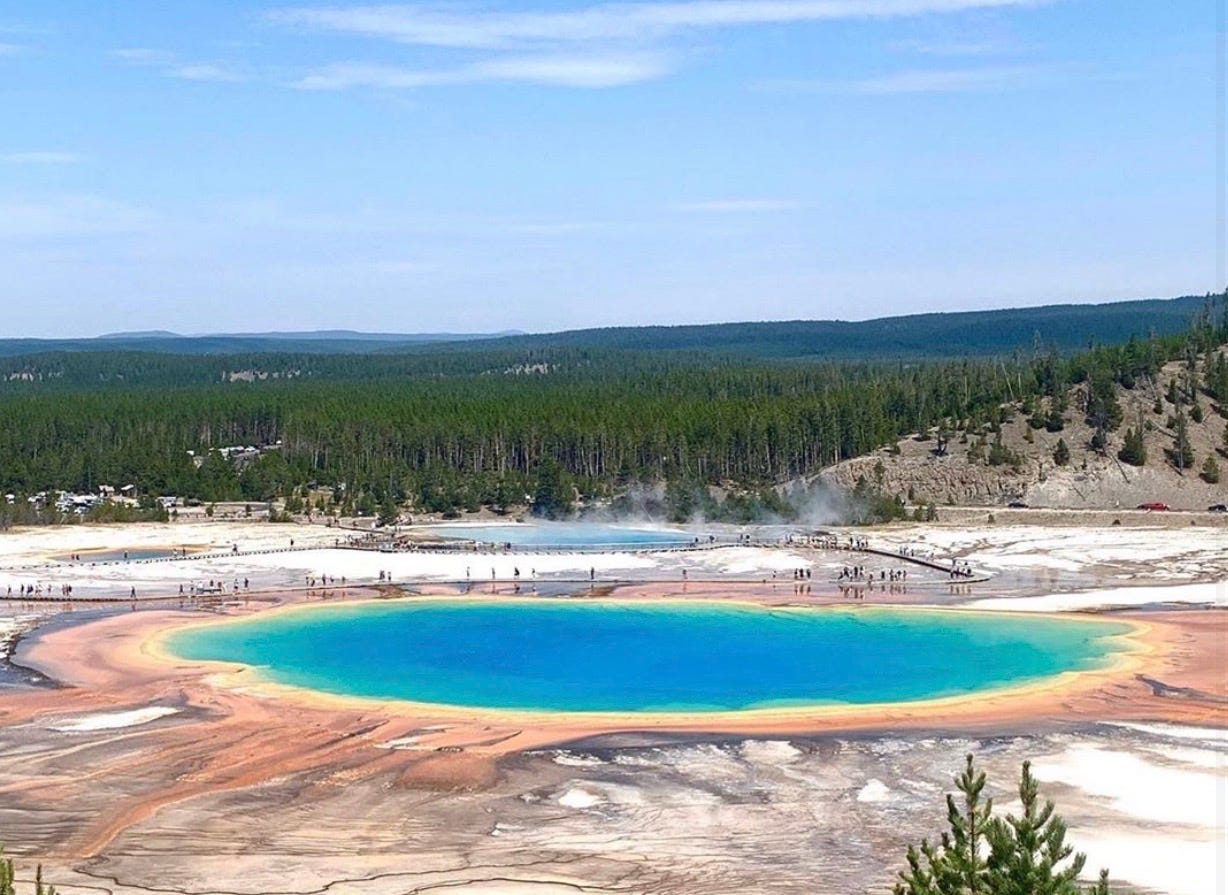 2,757.6 miles, five states, several magical hot springs, and zero (!!) speeding tickets later, I'm back home in Seattle.
I tiptoed my way back onto the grid the last few nights of my vacation because I forced Stephanie to tell me who Biden picked as his running mate, and I didn't want to miss Kamala's speech. And to be honest – at that point the inner voice that I was letting dictate my daily agenda really wanted a hotel bed and a Sex and the City marathon. Who was I to stand in her way?
I've always loved political conventions (I distinctly remember watching the '88 convention in the playroom in our house where we had this tiny TV hooked up). I know they're cheesy, and scripted to within an inch of their life, and the jokes fall flat. But I can't help it – they entertain me. Something weird always happens, and someone always has an unexpectedly powerful speech, and I'm a sucker for big balloons and video montages and pop music and spectacle. I'm also just my grandmother's granddaughter.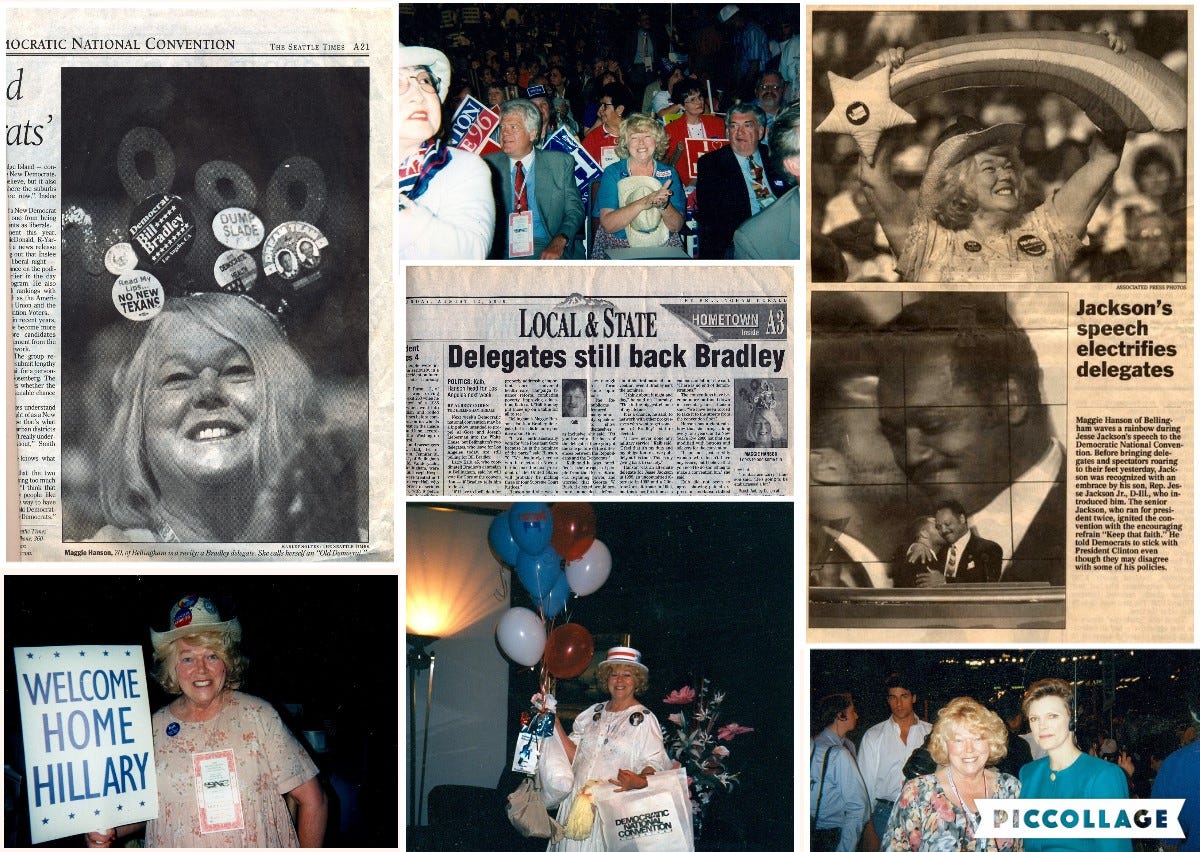 There were moments of Wednesday and Thursday nights that I loved -- The Chicks singing the national anthem, and the interview with Biden's granddaughters, and Steph's shoulder shimmy, and Hillary in her all white suit, and I cried/cheered/cried during Brayden Harrington's just absolute rockstar inspiration of a speech. And Kamala!! She's so smart, her niece is cool af on Twitter (RIP), she is extremely qualified, and Liz loves her… what more do I need to know? She also completely won me over during the Kavanaugh hearings, and I'm so glad there will be more Maya Rudolph in our lives.
But the thing that pulled me out of the wilderness and into the air conditioning was President Obama. I needed him to make me feel better – like there were still some reasonable adults in charge behind the scenes who were confident we were going to make it through this. I'm actually not sure if there's anyone whose words I take more seriously than his, other than maybe Michelle (sorry, Francis). He is thoughtful, and brilliant, and measured, and humane. He acknowledges the way his thinking has evolved and makes room for complexity and contradiction.I wanted his reassurance that we were going to be okay.
But if you watched on Wednesday, you'd know that I didn't exactly get the emotional catharsis I was looking for. The speech was more of the "our democracy is facing an existential crisis and if you're not fucking terrified then you haven't really been paying attention" variety – which, you know… also good?
Truthfully though, even a Come to Jesus Barack Obama Speech for the Ages didn't even really get me fired and up and ready to go. I turned it off feeling mostly scared and angry. I drove through Yellowstone the next day wondering what was wrong with me. It's unfortunately pretty easy to relive the shock and devastation and despair I felt the days and weeks after Trump was elected. How I swore I would never be politically complacent again. I obviously voted for Hillary, and I did a few volunteer activities here and there, but I didn't go out my way to help her win that election. There was no way Donald Trump was going to win, so why did it matter?
And yet here we are four years later and I'm doing the exact same thing. Telling myself the exact same thing. There is no way this vile, willfully ignorant, traitorous, racist, sexist, dishonest scumbag of a human being is going to win a US presidential election twice. No way.
But I also recently had a friend encourage me to make a mental health plan in case the unimaginable happens, and even though I laughed it off at first, I'm taking her seriously now. Because the stakes actually feel that high, and nothing is guaranteed. To quote my friends Taylor Swift and Bon Iver, it seems like we're all walking a pretty thin line right now, and the hope of November and some sanity restored to our government is one of precious few things pulling me through.
I feel complacent because it's hard to feel excited and motivated when you're exhausted and desensitized. I had to numb myself to mentally survive the last four years, and certainly the last six months—I think we all did in our own unique ways. But we have to figure out how to wake up now, because this nightmare has to end.
__
I drove around the Tetons one night hoping to see a bear, but then stopped and asked myself if I actually wanted to encounter a grizzly bear all alone. I started thinking about why grizzly bears are so mean. They're at the top of the food chain, so maybe chill out a little? But then I remembered that their cubs aren't at the top of the food chain. There's a reason mama bears are notorious.
That's how my nieces make me feel – blind fierce protective mama bear I will fight you to the death love. So if I can't find the fire in me on my own to remember what's at stake here, then I'll use Charlotte and Hattie as fuel. They are going to grow up with a president who is worthy of them, not one who makes fun of people for the way they look or the way they talk. And my grandma is going to see a black woman elected to be Vice President.
That's the mama bear energy I'm going to try to find for the next 70 days until November 3rd. If I have to listen to Hamilton every single day, so be it. Patriotism isn't something I feel often, but I did these last two weeks. America really is a beautiful country, and I really do feel lucky to have been born here. But, as Toby Keith sang, the nation I love (or at least kind of like sometimes) has fallen under attack. That's genuinely how it feels to me right now. I didn't need Obama to stand in front of the literal Constitution to remind me of that, but it didn't hurt.
I want cool, reassuring Barack Obama back (I also want President Biden to appoint him to Breyer's seat on the Court since RBG is going to live forever, if you want to light your prayer candles with me), and the only way that happens is with getting this maniac out of the White House and stopping this pandemic.
Clear eyes. Full hearts. CAN'T LOSE. Literally.
Alison
--
Recommended reading:
Schools: I wish I had more information/insight for you on school reopenings. What we know is that there doesn't seem to be a way to safely reopen schools in person – even with masks, reduced class sizes, temperature checks, etc – unless and until there is way less virus being transmitted in the community. We still need new case numbers to go down – a lot, and everywhere. If adults want kids back in schools, then they need to start behaving differently. (Speaking of schools: I was appalled and embarrassed when Notre Dame proudly announced earlier in the spring that it was going to reopen in the fall, and that science alone wasn't sufficient to inform that decision. There was such hubris in the way it was announced – and now ND is having to pause in person education due to a covid outbreak on campus. The student newspaper printed a headline from its editors "Don't Make Us Write Obituaries" – pleading with the administration to take the virus seriously enough to protect their professors and classmates. That really shouldn't be necessary, should it?)
Covid-19 Poem of the Day:
Keeping Quiet
Now we will count to twelve
and we will all keep still
for once on the face of the earth,
let's not speak in any language;
let's stop for a second,
and not move our arms so much.

It would be an exotic moment
without rush, without engines;
we would all be together
in a sudden strangeness.

Fishermen in the cold sea
would not harm whales
and the man gathering salt
would not look at his hurt hands.

Those who prepare green wars,
wars with gas, wars with fire,
victories with no survivors,
would put on clean clothes
and walk about with their brothers
in the shade, doing nothing.

What I want should not be confused
with total inactivity.

Life is what it is about…

If we were not so single-minded
about keeping our lives moving,
and for once could do nothing,
perhaps a huge silence
might interrupt this sadness
of never understanding ourselves
and of threatening ourselves with
death.

Now I'll count up to twelve
and you keep quiet and I will go.
~Pablo Neruda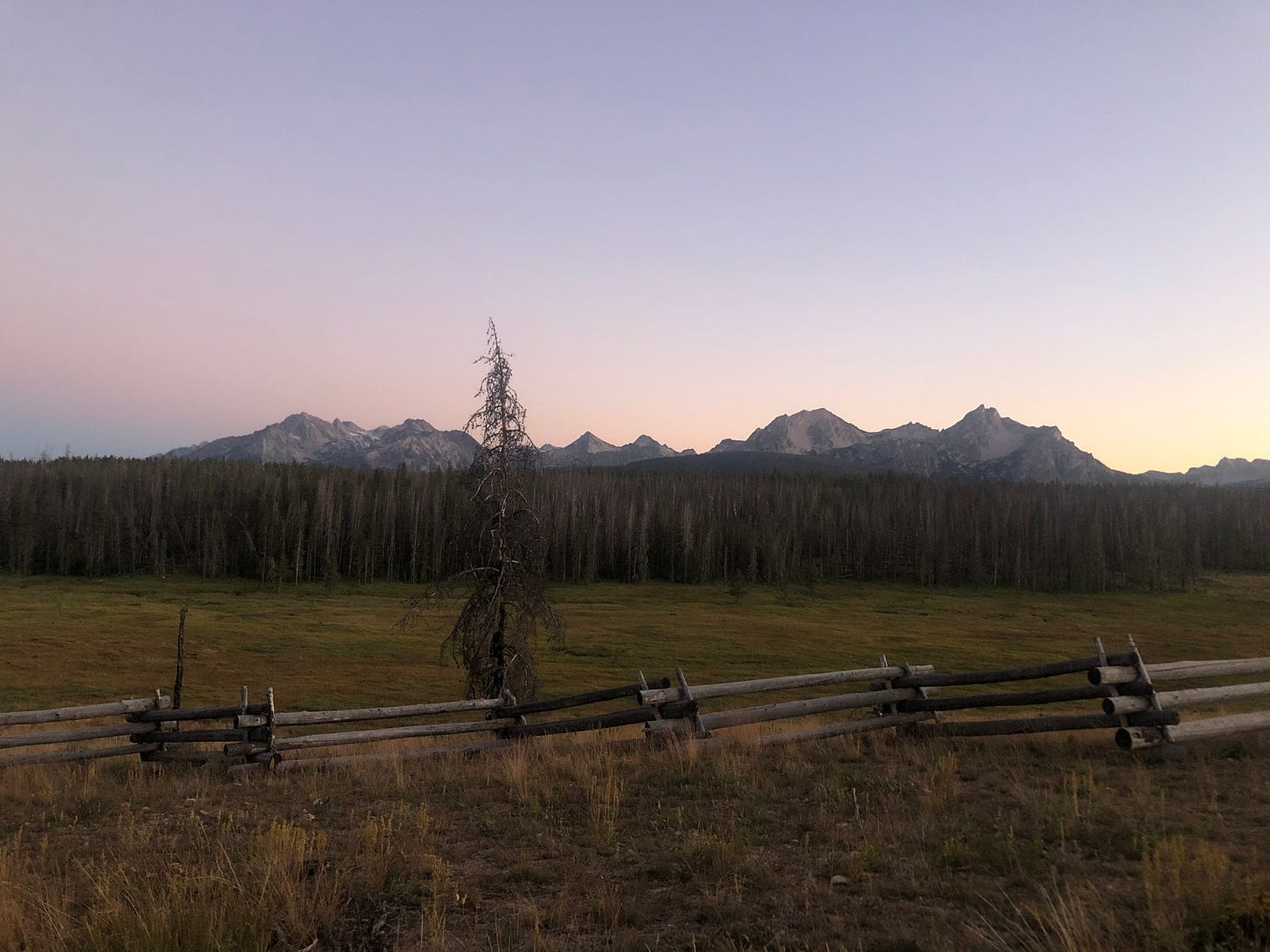 PS - I masochistically can't wait for the RNC this week if anyone wants to text me about it or send me screenshots of good things on Twitter that I'm missing. :)